The advantages and disadvantages of each available material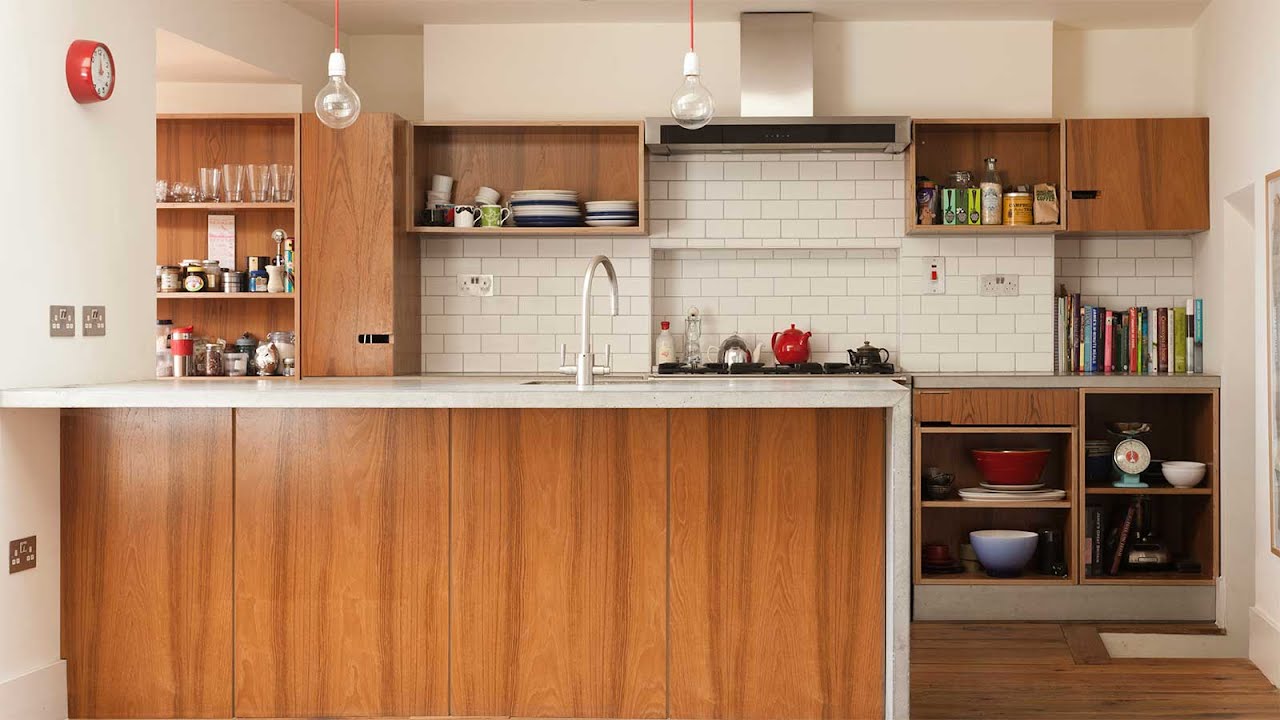 There is so much to choose from when it comes to your kitchen countertops – the material you want and the budget you need to spend. Here's what you need to know about solid surfaces, engineered stone, concrete, wood and steel.
When it comes to a new kitchen, there are so many decisions to be made. Where will you need electricity, do you want the oven under the counter or in the eye line, can you afford solid wood or plywood units, will they be shaker style or very minimalist?
However, your kitchen counters are what you'll be looking at more than anything else. You'll be reading cookbooks, preparing food, eating, and generally relaxing next door, so it's important to make the right choice. And right now, there are more choices than ever.
As new technology comes to the forefront of kitchen design, we take a look at the pros and cons of six different work surfaces – some old favorites and some new synthetic fusions.
Concrete
Concrete is becoming a more preferred choice with the continued popularity of industrial trends. However, not one or all of the manufacturers can install it. For longevity, countertops should be prefabricated and installed by a specialist. "We use glass fiber reinforced concrete, which does not need the steel reinforcement of traditional concrete," says Conor Carruthers of Concar Designs. "This allows for wider, thinner and lighter slabs. "
Cracks can occur if concrete is not manufactured or installed correctly, and this requires sealing because it is porous. "We apply a sealant based on polyurethane epoxy. It is a unique application with extremely high heat and scratch resistance properties, "explains Conor.
Natural stone
A marble Rhatigan & Hick marble kitchen
Granite, marble, and quartzite have long been traditional choices for kitchen counters. While granite may conjure up memories of a kitchen from the 1990s, know that it comes in a variety of finishes, is extremely durable, and won't chip.
Marble is slightly softer and requires regular maintenance, but its beautiful scrolls make it an obvious aesthetic choice. If you are looking for a marbled effect, but need your kitchen countertop to be very durable, quartzite is a good alternative.
Solid surfaces
Solid surfaces like Corian and Silestone are more recent advancements in acrylic or polyester resin work surfaces (or a combination of the two), with crushed stone or other pigments. This offers a range of color and texture options, from a stone-like surface to a high gloss white.
Designed for long term wear, solid surfaces can be made seamless and can integrate the backsplash and sink without any joints. However, it is prone to scratches and heat marks, which must be sanded and polished by a professional, and it lacks the depth and intensity of natural stone.
Wood

photo by kevin laminto at Unsplash
Wood countertops add a warm touch to your home like no stone or engineered surface can. Of course, the wood can be varnished or stained according to your color preference and it also has natural antibacterial properties, so it is ideal for food preparation areas.
However, wood requires significant maintenance; resealing every few years (giving a waxy appearance), or it requires mineral oiling every eight weeks. It is also very susceptible to scoring and burning and may swell and discolor with prolonged exposure to water. If you are not ready to take on this responsibility, your counter will warp, stain, and need to be replaced in a few years.
Reconstituted stone
Engineered stone or quartz surfaces are an update to solid surfaces that combine fragments of quartz (around 90%) with a synthetic resin to bind them together. It offers the depth and shine of natural stone, while maintaining the durability and strength of a solid surface and does not require sealing.
To take these advancements one step further, sintered stone, such as Neolith, pictured above, is available from Tile merchant, which is a combination of engineered stone and solid surface technology. It is able to replicate a range of surfaces and patterns from marble and granite to copper and iron, combining the durability and color of engineered stone with the seamless lightness of solid surfaces.
Stainless steel
Widely regarded as one of the best surfaces for a busy and lively kitchen, stainless steel is virtually indestructible and impenetrable, making it extremely hygienic and stain resistant. It does not conduct heat, does not need to be sealed, and requires minimal maintenance. However, if you want a tidy and quiet kitchen, stainless steel is not for you. It is noisy, marks and stains easily, and will slip quickly with scratches and bumps. It is often mounted on wood to add strength and prevent dents. Look for thin gauge steel, as thin metal will dent easily.
Featured Image Via Cillian Johnston Design and abgc.